Where do I go for the
 Best Framing of my
Portrait, Painting, or Vintage Picture?
Copyright Photographs and Article by
Douglas M. Robertson, Certified Master Photographer in Wichita, Kansas
http://robertsonswarehouse.com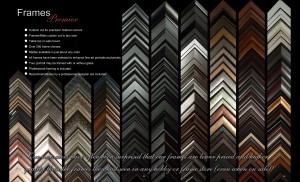 There are a number of things to consider when framing that favorite portrait, painting, vintage picture or any form of art.  Preservation of the art depends on the right handling/cleaning, glass, backer board and matting in which it has been framed. The right frame and/or mat enhances the piece of art and considering that your art piece will most often be around much longer than much of your furniture, a wise investment with the right framer is important.  
Important Points for Custom framing:
Custom framing reflects your personal taste and protects your piece.  (Choose a frame that compliments your image and doesn't distract from your subject.)
Can be chosen to fit your current décor but fit in even when you make changes.
Can choose matting to enhance your artwork. (Window-cut" material placed around an image within a frame, adds color to pop colors in the art, makes overall size of finished piece larger and to give it presence within its surroundings.)
Is Considered a Wise Investment. (Archival, acid-free materials protects the artworks from exposure to contaminants that would cause staining or deterioration. Get quotes; often professional framing can be cheaper than volume geared framing stores.)
 What to Ask the Framer for your Art Piece?
Is the discount off a true sale or your standard price? (Many times a professional photographer/framer can be quite reasonable and competitive to volume framing hobby shop.)
What is your quality of frames?  (Often volume framing hobby store frames are designed for crafts; however, mouldings that a professional photographer carries are of higher quality and made for photographs and portraits as well as frames suitable for paintings etc.)
What is your experience in framing and displaying of art? (Professional photographers/framers have an artistic eye that is superior in quality and guidance than your average hobby store.)
Do you have a large variety of frames/mattes and is the mattes acid free?
Is all the products used acid free including the backer boards? (Using all archival, acid-free materials such as mounting and mat boards, tapes and adhesives protects the artworks from exposure to contaminants that would cause staining or deterioration.)
What choices do you have for the glass used? (UV glass (or UV plexi) filters out light rays that can damage photographs.)
Who and how is the art handled and how is it cleaned? (Improper handling can cause wrinkles, tears and fingerprints leaving debris and oil on your art among other damaging results.)
How soon will I get the art back? (Professional photographer/framers have a reputation to protect and you have complete attention of the artist when serving you and are usually more reliable.)
 Robertsons' Warehouse Studio Offers:
Reasonable and competitive prices and can result in lower price than hobby stores
All superb quality products
Quality Acid free products (mattes, backer board, conservation glass, etc.)
Thirty-two years of experience and has framed many museum pieces
Over 200 custom mouldings and large selection of mattes
Professional guidance and personal service
Proper handling, care, and display
Reliable, quick and timely delivery of your finished piece of  art
Restoration of vintage photographs
Robertsons' Warehouse Studio 1423 S Handley Street Wichita, KS 67213 Phone:  316-393-3684 
For more photographs and information see website or e-mail photographer at:
http://robertsonswarehouse.com/ or robertsons@robertsonsphoto.com